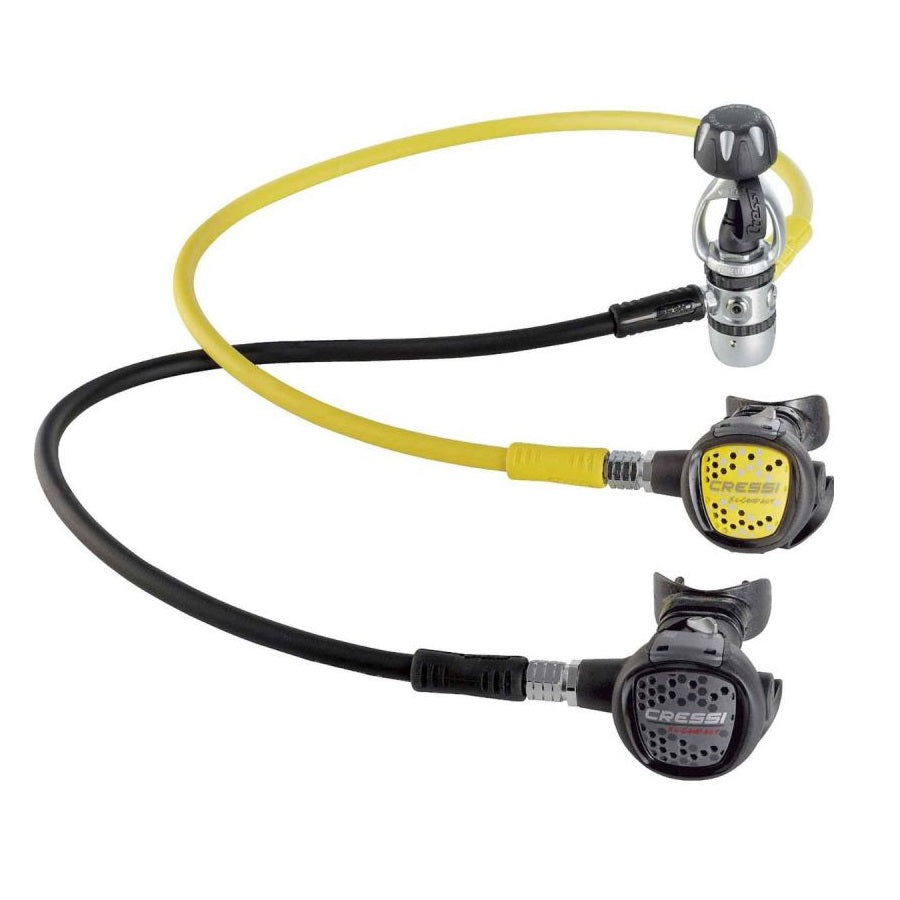 Ac2 + Compact + Octopus Compact Regulator
Kit composed of AC2 1

st

 

stage, XS Compact 2

nd

 

stage, and Octopus Compact.

Ideal scuba diving regulator for beginners and travelers at an affordable price. Piston 1st stage plus a compact single-hull second stage. 1 HP and 4 LP ports. Weight: 923 g - 32.6 oz. Made in Italy. Simple piston 1st stage, a "work mule" that is affordable, simple, reliable and robust, suitable for intense use. This first stage is appreciated by dive centers and professional companies who consider it to be a very rentable tool, due to its low cost and practically nonexistent need for maintenance, as well as a surprising level of performance. Conical filter with large filtering capacity, essential for preventing infiltration of particles from the tanks. This feature is especially important for regulators in dive schools and rental agencies. Airflow administered at 2100 l/min with an intermediate pressure drop in intensive breathing (2175 PSI | 150 BAR) 7÷12 PSI | 0.5÷0.8 BAR (measurement is taken at an LP port with the second stage connected and 2175 PSI pressure in the tank). Exterior LP regulation with a common hexagonal key, greatly facilitates managing adjustments and technical maintenance. Greatly simplified single-hull 2ndstage made of ABS + elastomer of really compact size and extremely light. Its mechanism and development are perfectly planned to obtain the minimum number of components and great strength. It's a smart shopping option because of its combination of features - reliability - price - maintenance cost. Asymmetrical frontal 2nd stage cover drilling. The water flow pushes the diaphragm anti-clockwise direction to create its retraction in a flat position and to make the lever decrease gradually in precise perpendicularity, regardless of condition. The specific calibration of the inhalation mechanism changes slightly the personality on air output according to Compact series, rewarding an abundant flow without the need to exploit Venturi effect, beyond the exquisite touch and sensitivity of these kinds of regulators. This feature provides a limited tendency to continuous flow on the surface or during the placement of equipment into the water, excellent for schools and renting (both the octopus and the double regulator). However, the results of the features place it beyond regulators of the highest range.

1st stage Piston design AC2.

2nd stage "downstream" XS Compact Silver.

2nd stage "downstream" Octopus XS Compact .

 

TECHNICAL FEATURES 1ST STAGE :

Piston design. 

1 outlet HP 7/16 UNF. 

4 outlets MP 3/8 UNF. 

Service pressure: 232 BAR | 3365 PSI. 

INT Yoke version - Calibration pressure: 9,5-10 BAR. 

Brass body Electroless Nickel plated. 

High capacity conical filter electroless nickel plated. 

AISI 316 long-lasting piston. 

Extremely easy in maintenance since IP is adjustable from the outside. 

Stainless steel spring. 

Flow rate: 2100 l/min

TECHNICAL FEATURES 2ND STAGE :

Downstream system. 

Adjustable venturi effect. 

Patented antifriction lever. 

Big purge button. 

Anti-scratch surface. 

Bayonet-type cap holder with security lock. 

Removable exhaust tee

 

COMBINATION PERFORMANCE :

Average Cracking effort 6 mBar. 

Average breathing effort 1 J/l. 

Hose Extremely light and flexible weight: 153 g.