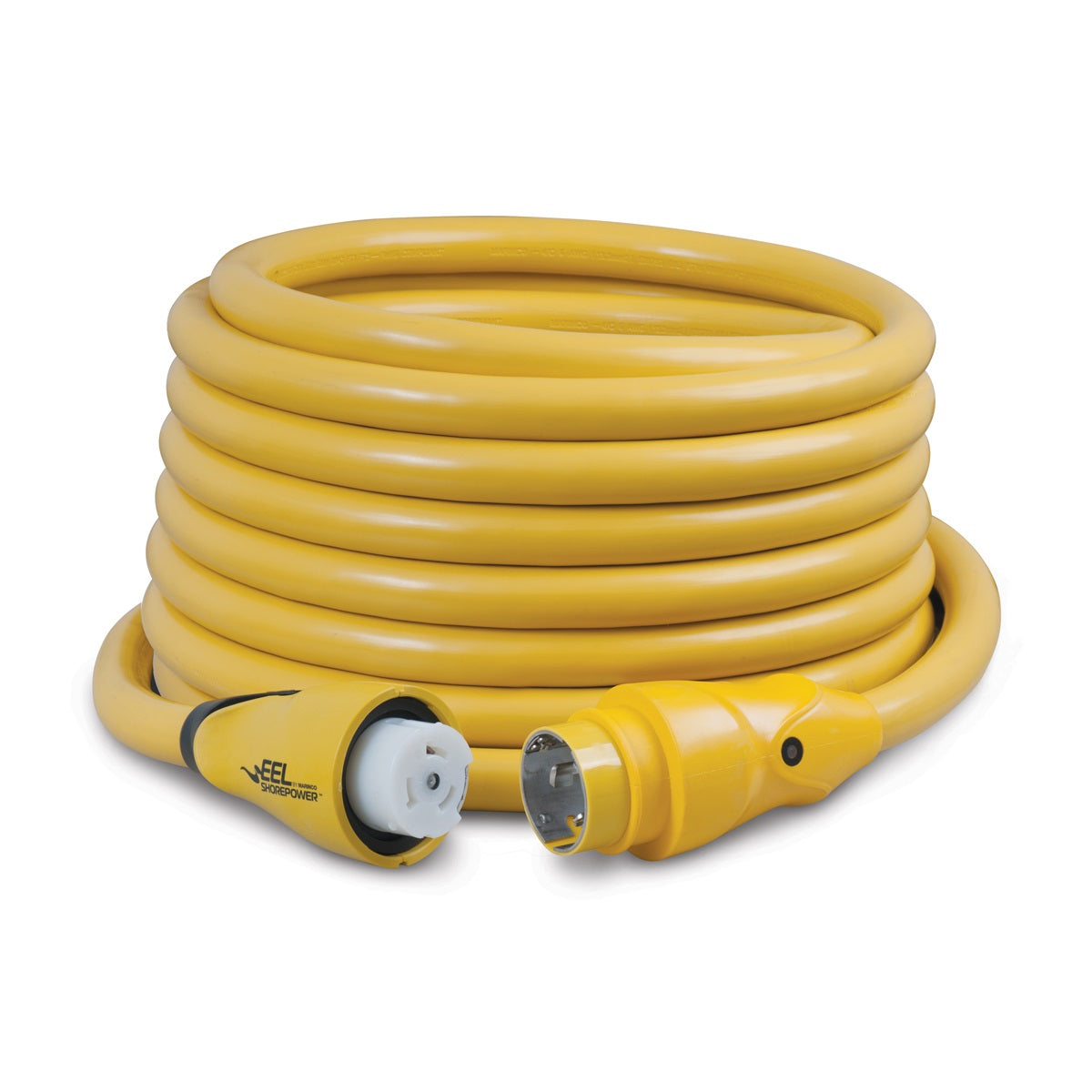 EEL Cordset, 50A, 50'
One Hand. A Simple Twist. Full Power.

The EEL (Easily Engaged Lock) Shore Power Cordset has a patented, industry first, jaw-clamp design providing one-handed operation and a secure waterproof seal which completely eliminates the need for a locking ring. The EEL connection is built for the harshest environments and is UL approved. This easy-to-use cordset features a built-in cord light which serves as an alert to boaters when the cord is left plugged in. And, best of all, it works with your current inlet. In addition to cordsets with the EEL System, Marinco® also has a full set of Pigtail and Y adapters all using the new EEL technology.

Jacket Material : PVC.Plug Bodies : Nylon.Contacts : Nickel-Plated Brass.Length : 50 feet.Connection Type : SS2-50R female and SS2-50P Male Twist- Lock with EEL.Voltage : 125/250 V.Amperege : 50 Amp.Cabel Size : 6 AWG ( 13.3 mm ).Condutors : 4.Nominal Diameter : 1.08".Patented EEL Technology :   • Designed for use with standard inlets (NEMA).   • Single-handed operation.   • No sealing ring required.   • Patented jaw-clamp technology provides a watertight seal every time.Features & Benefits :  • Built-in cord light for added safety - alert light indicates if you are plugged into the dock and cord is powered.  • Power indicator light on both ends informs you full power is fowing through the cord.  • Meets and exceeds rigorous UL testing standards.  • 50 Amp cordset models, 50' lengths in yellow.  • EEL product line includes connectors, pigtail, straight and "Y" adapters.