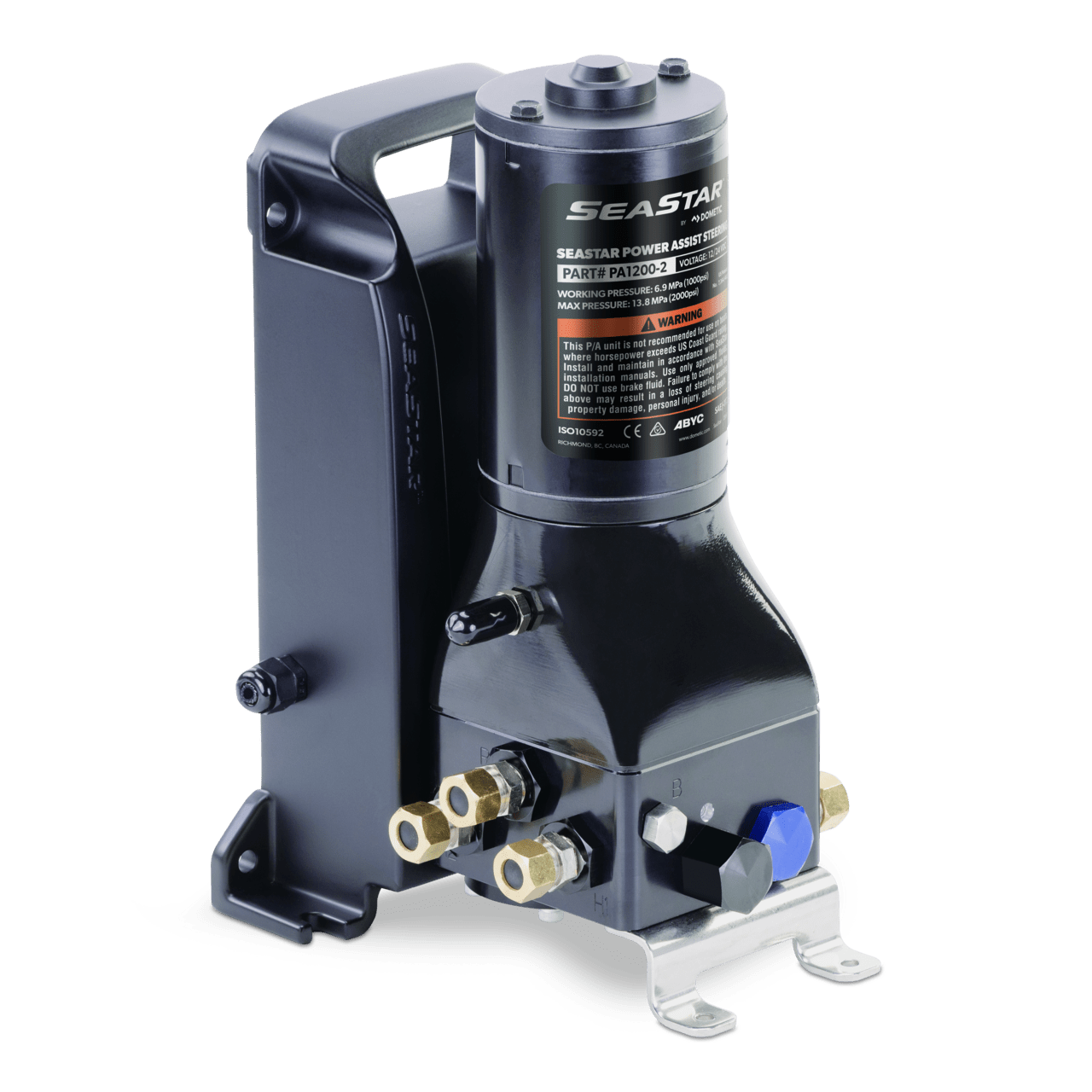 SeaStar Power Assist
The marine industry is continually introducing heavier, more powerful outboard engines. The Dometic SeaStar Steering Power Assist lets you steer these bigger, faster boats with the same comfort and ease that you'd expect when driving a car. Recommended for any boat that is 200 hp and above.

The Dometic SeaStar Power Assist Steering System is comprised of two circuits: a hand operated manual system, which is the control element, and a hydraulic power pump, which is the working element. The manual system consists of a helm pump with internal relief and check valves, and a built in reservoir. The power system is an electronically controlled hydraulic pump that boosts the fluid being sent from the helm pump to the steering cylinder, resulting in much easier effort at the wheel.

Operating voltage :

   12 V.

Power harness length : 

 15' (4.5m).

Power harness wire gauge :

 10 AWG.

Working pressure  :

   1000 psi (6.9 MPa).

Maximum pressure :

   2000 psi (13.8 MPa).

Relief pressure :

  2000psi (13.8 MPa).

Maximum pump flow rate :

  240 in3/min (3930 cc/min).

Average current draw :

  ~3A.

Maximum current draw :

   50 A.

Internal fuse rating : 

 40A x2 (80A).

Ignition wire maximum current draw :

  1A.

Weight (w/o harness) :

   11.5 lb (5.2 kg).

Dimensions (w/o harness) H x W x D :

  11.1" x 6.2" x 6.5" (28 cm x 15.7 cm x 16.5 cm).

Ignition harness length :

  25' (7.6m).