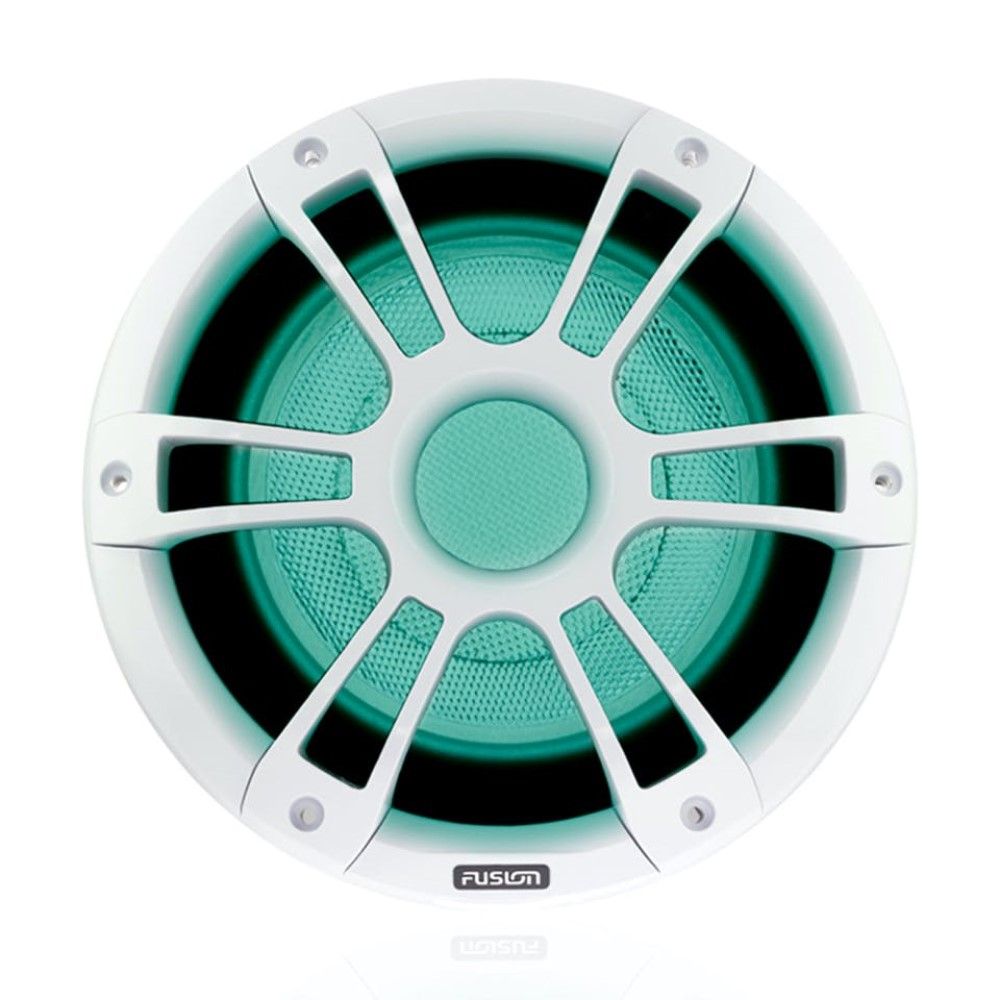 Sports White Marine Subwoofer with CRGBW 600 W
The Signature Series 3i subwoofers deliver the drama with the premium low frequencies to enhance your listening experience.

10" 600-watt CRGBW Sports White Marine Subwoofer

Premium CRGBW LED Lighting: The industry's first marine subwoofers with CRGBW (cool white, red, green, blue, warm white) illuminate an unprecedented spectrum of colors from premium pastels to vibrant hues to match your music for unmatched, more ambient on the water entertainment experience. Control color, brightness, light mode and speed with the optional MS-CRGBWRC wireless remote control (sold separately).
600 Watt Enhanced Peak Power: Producing extraordinarily defined high power, the Signature Series 3 subwoofers take premium low-frequency resonance to previously unexplored depths.
Polypropylene Cone Technology: The defined, high resolution low frequency acoustics are the result of the excellent automatic damping and bass reproduction from the quality polypropylene cone.
Sport Style Grille: The sleek sport grille design provides maximum cone protection with a great look to complement any vessel.
Large Diameter Voice Coil: Providing an increase in real power and efficiency, the large diameter voice coil produces a unique sound with swaying bass.
True-Marine ™ Design and Protection: Extensively tested to operate in harsh marine conditions, the Signature Series 3i subwoofers are IP65 water resistant and are perfect for both indoor and outdoor installation.Subwoofer Size

: 10"

 RMS Power Rating

: 300 watts

 Peak Power

: 600 watts

 Efficiency (1W/1M)

: 86 dB

 Frequency Response

: 30 Hz - 2 kHz

 Impedance

: 4 Ohms

 Magnetic Structure

: 68 oz

 Voice Coil Diameter

: 2"

 Recommended Amplifier Power (RMS)

: 50 - 600 W/Ch

 Cone / Surround Material

: Polypropylene with rubber surround

LED lighting : 

   yes, CRGBW (sports style with LED models only).

LED supply voltage :

  10.8–16 VDC (sports style with LED models only).

LED load current @14.4 VDC (max) :

300 mA (sports style with LED models only).

 Water and Dust Resistance (IP rating)

: IP65.

 Mounting Diameter Clearance

: 223mm [8-3/4"].

 Mounting Depth Clearance

: 133mm [5-1/4"].

 Subwoofer Dimensions: Length x Height x Depth

: Ø 275mm x 172mm [Ø 10-13/16" x 6-3/4"].