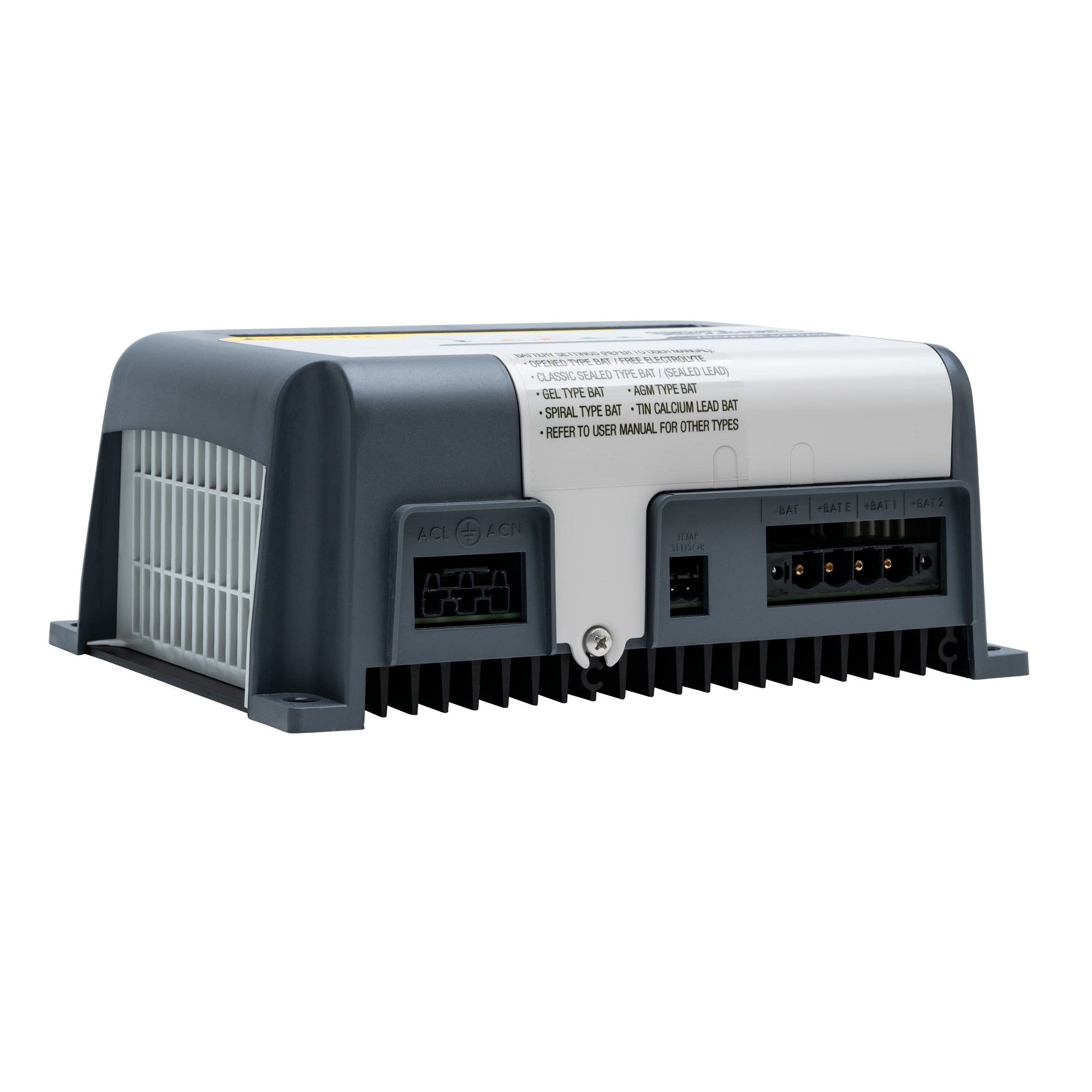 YPower Battery Chargers
With more than 150,000 HF battery chargers installed worldwide, CRISTEC is proud to present its fifth generation of HF chargers:  YPOWER range.

Indeed, being robust, reliable and efficient, the latter will offer you professional use of quality and comfort of use thanks to its multi-output function.

Silent operating :  

This specificity gives them totally silent operation and an optimized lifespan. 

It is therefore possible to install them anywhere on board, including under a berth. 

The more powerful models, 12V / 60A and 24V / 30A, have a controlled fan. 

In other words, the fan will only be in operation at the very start of charging (Boost phase) and/or when the ambient temperature is high.

Thermal Performance :  

Rated charge up to +60°C with no derating can be installed in an engine room. Model 12V/40A Ignition protected according to standards SAE J1171 and ISO8846. 

Boost

 

: charges batteries to 80% of full charge

Absorption

 

: slowly completes remaining charge to 100%

Floating

 

: maintains battery charge

Automatic refresh

 

: prevents sulphation and revitalizes batteries, selectable by internal switch

Reboost

 

: New automatic Boost phase if batteries demand needs it. Power-supply mode also available. IU mode by inhibiting the BOOST using internal switch..

Adaptative Charge : 

Presence of a custom-made and

simultaneous recharge of 3 or 4 battery banks,

including one dedicated to the motor battery.

YPOWER chargers are compatible with all types of batteries :

Opened classic lead.
Sealed, Gel or AGM.
Spiral sealed.
Lithium Iron Phosphate ( LiFePO4 ) with BMS.

Applications :  

YPOWER AC-DC battery chargers adapt to different markets and applications

:Professional marine :

 naval, service boat, fishing boat, passenger boat, tug, barge, barge, lighthouse and beacon.

Recreational marine :

 yachting, sailing boat, motor boat, electric boat, catamaran, speedboat, etc.

Emergency vehicles :

 firemen, ambulance, rescue, depollution, etc.

Recreational vehicles :

 motorhome, golf course, etc.

Special vehicles :

 surveillance, transport of animals, Van, public works etc.

Industry :

 automated cleaning, on-board camera, recognition robots, telecommunications, etc.

Wind-powered : 

landsites.

Solar :

 isolated sites.